BIO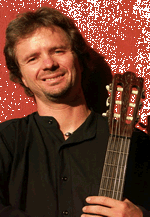 Asen Marinov was born in 1973 in Kjustendil, Bulgaria.
He started playing classical guitar in 1986 and since 1988 is a student of D. Doychinov. He completed his MA in classical guitar at the New Bulgarian University, Sofia, Bulgaria.

Asen Marinov is a winner of several awards: II Prize at the National Guitar Festival Kjustendil '97, II and I Prize at the International Guitar Festival Gotse Delchev '96/97 and others.
He participated in master classes of Oscar Gighlia, A. Desiderio, H. Kaeppel, A. Koshkin, K. Yamashita, LAGQ, etc.
As a member of EPIKA Guitar Quartet and a soloist, his arrangements and performances have received significant TV and radio coverage. Asen's international performances include ones in Greece, Italy, Germany, USA and Micronesia.

Currently Asen Marinov teaches classical guitar in Southwestern University of Blagoevgrad.